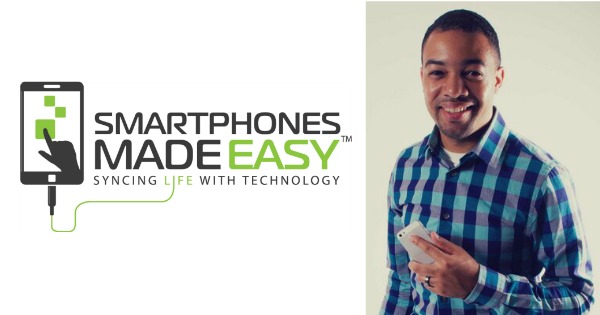 Rey Brown from Smartphones Made Easy  was kind enough to join the Cash Car Convert show for an interview. Rey has worked in the wireless/Smartphone industry for about 10 years. He has extensive knowledge of the workings of all the major carriers. He also has spent a great deal of time exploring the apps that exist for both the iPhone and the Android ecosystems. He will share this extensive knowledge with us today.
Click to Listen
Podcast: Play in new window | Download
I met Rey early this year when I spoke at the Podcast Dallas meet up in February. I had interacted with him on social media such as Facebook and Twitter due to us both being members of Dan Miller's 48Days.net and John Lee Dumas' Podcaster's Paradise.
Rey is one of the most helpful people I know in the online marketing space. He is so quick to offer help. He even helped me move back in May. That is taking online relationships offline to the extreme.
As good a guy as Rey is, that's not why I wanted to have him on my show. The reason I wanted him on my show is we all have SmartPhones and they will cost us a great deal over the course of our lives. We need to make sure we are extracting maximum benefit for the money spent.
Rey's Smartphones Made Easy tag line is Syncing Life with Technology. We all use technology everyday. Wouldn't it be great to have this technology actually help us in our daily lives rather than distract us from our lives? Rey can help.
I enjoyed interviewing Rey and I know the information he provides will be of great benefit to those who put it into action.
Links:
Smartphones Made Easy: http://smartphonesme.com
Rey Brown on Twitter: @IamReyBrown
Smartphones Made Easy Facebook Community: https://www.facebook.com/groups/SmartphonesMadeEasy/
iPhone 6 Master Class: http://smartphonesme.com/iphone-6-master-class/
Magneto Calendar: https://magneto.me/welcome/groups.html
Dashboard App: https://www.apple.com/downloads/dashboard/status/appupdate.html
EverNote: https://evernote.com
Wisely – Making Commerce Smarter: https://wise.ly
Noom Coach: https://www.noom.com
My Fitness Pal: http://www.myfitnesspal.com
Map My Ride: http://www.mapmyride.com
My Teeth: https://itunes.apple.com/us/app/myteeth-all-inclusive/id715668236?mt=8
Did you enjoy the show?
If you liked this episode, please consider going to iTunes and subscribing.
On iTunes once you subscribe, you can leave a rating and review. Taking this action will help this podcast move up and be more easily found in iTunes. Thank you for an honest rating and review.
Here is a link to subscribe or rate and review the show: http://cashcarconvert.com/itunes
Alternatively, you can let me know your thoughts about the show on Twitter at @CashCarConvert.
My Facebook page can be found at http://facebook.com/cashcarconvert
Want to shoot me an e-mail? Click: james@cashcarconvert.com.
Do you have a comment about this interview or about the podcast itself? Please leave a comment below.
I appreciate every listener.
Thank you for listening to the Cash Car Convert podcast.