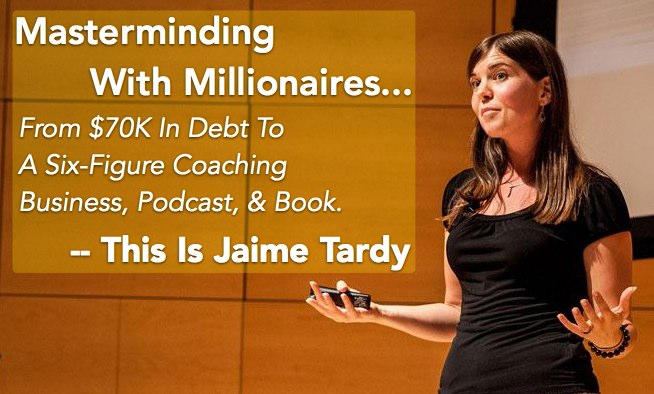 Todays guest is host of the wildly successful podcast the Eventual Millionaire. She has been featured in a number of news outlets such as CNNMoney, CNN Newsroom, and Fox Business. She has also been feature on or in Kiplinger's, Yahoo! finance, Time, and Success.
She has also authored, The Eventual Millionaire: How Anyone Can Be an Entrepreneur and Successfully Grow Their Startup.
I have my work cut for me in this episode, as I'm turning the tables on one of the best interviewers in the podcasting business, Jaime Tardy.
Click to Listen
Podcast: Play in new window | Download
Ever since Jaime was little she was curious about millionaires. She wanted to be one, but she wondered if they were different or better than little ol' her.
So she decided to find out. she has interviewed over 140 millionaires to peek behind the curtain and find out what really makes them tick.
In The Eventual Millionaire she details the exact steps they took that made huge difference. She interrogated them to gain their insights of what worked in building their business (and what they wish they did differently!)
Plus if you are still stuck in a day job, She'll walk you through how she paid off over $70,000 in debt, and quit her six figure job even though she was the breadwinner and her husband was a performing artist.
If you aren't in love with your work, and you want to start a business that will truly change your life, pick up The Eventual Millionaire today!
Jaime will teach you all she has learned.
Links:
Eventual Millionaire: http://eventualmillionaire.com
The Eventual Millionaire Book: http://theeventualmillionaire.com
Twitter: @eventualmillion
Call to Action:
If you liked this episode, please consider going to iTunes and subscribing.
On iTunes once you subscribe, you can leave a rating and review. Taking this action will help this podcast move up and be more easily found in iTunes. Thank you for an honest rating and review.
Alternatively, you can let me know on Twitter at @CashCarConvert
Do you have a comment about this interview or about the podcast itself? Please leave a comment below.
I appreciate every listener.
Thank you for listening to the Cash Car Convert podcast.