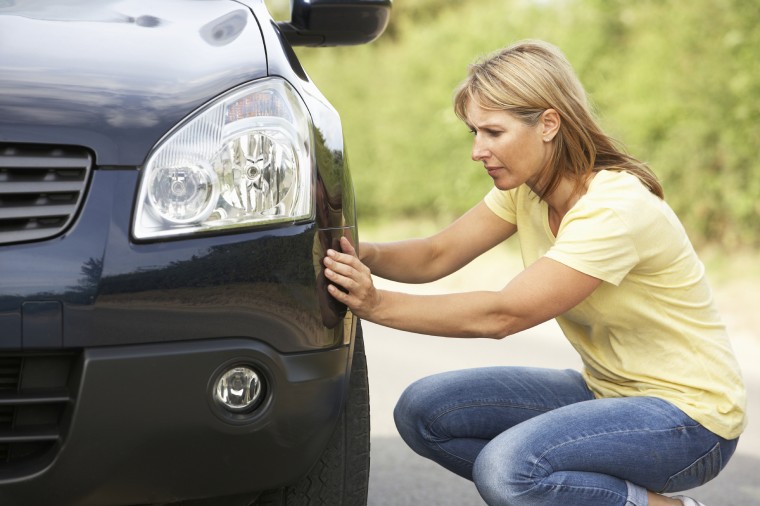 When I leave my home to look at a car after all the research and screening, I feel pretty confident I will be looking at a quality used car.  Even so, I still have to do an inspection and so will you.
The goal of my inspection is to minimize the risk of buying a car that might become more of a problem than a blessing to me and my family.
When I arrive to look at a car there are a number of things I do to either eliminate the car from consideration or determine it is worth pursuing further.
Click to Listen
Podcast: Play in new window | Download
6 Tips for Inspecting a Used Car:
1. External Inspection – 
I slowly walk around the car looking for any obvious defects or imperfections. Does the car sit level? Does the paint match ? Does the paint have a shiny spots or dull areas? Does the car have any dents? Does the windshield have any chips or cracks?
Is the car properly registered and tagged? Is the inspection current?
Do the doors, hood, and trunk align to the car's body properly with even seams? Do they all open and shut properly?
Are the windshield wiper blades soft and flexible  or hard and brittle? This is a minor problem, but goes to the sellers attentiveness on repairs.
Are the tires a quality brand and all the same brand. Are the tires' tread wearing unevenly? If so,this could mean larger problems in the suspension or wheel alignment/balance.
Are the wheels or hub caps intact and clean? If you can see the brake rotors through the wheels check to see if they are smooth or if there are deep grooves present indicating a current or past problem with brake wear.
Do all the exterior lights work?
Are there any areas in the drive way that could be the result of a car leaking some type of fluid?
2. Interior Inspection –
I then review the interior for rips or tears in the seats. Is the headliner in tact? Is the carpet clean with no defects? Are there factory floor mats? Are all ash trays clean?
Do all the electronics work? Power Windows and door locks? Moon roof? Windshield wipers? Radio/CD player? Do any speakers rattle or fail  to produce sound? Do all gauges and dials work? Do the air conditioner, heater, and defroster perform properly?
Does the mileage agree with the information found in your CARFAX report?
Is the owner's manual in the glove box? How do the door jams look? Are they clean with no unusual wear?
The vehicle identification number or VIN should be on all major body panels if they are original.
3. Inspect Engine Compartment –
I check under the hood looking for leaks or other signs of an engine problem.
Has the engine been recently cleaned? If so, evidence of a problem could be masked. I prefer to see an engine with a light coating of dust to know I can better trust what I am seeing.
I will check the fluids to ensure they are properly filled, look clean and clear, not dirty or dark, indicating regular fluid changes. This includes brake fluid, transmission fluid, power steering fluid, oil, windshield washer fluid and cooling fluid.
Does the belt or belts look to be in good shape with no cracking or uneven wear?
Does the radiator show any signs of repair?
Is there any corrosion on the battery terminals?
4. Inspect the Trunk –
I am looking to make sure everything is there and in its proper place.
Does it have a spare tire? Is it properly secured and inflated? Is the jack and all of its parts present and properly secured?
If the back seat folds down does it do so properly with no problems?
Is the trunk clean?
5. Check Engine Performance –
Starting the car is the next order of business.
Does it start smoothly? Does it idle properly with a smooth even sound?
Is there any hesitation in the engine when the accelerator is depressed?
Is there any smoke coming out of the tail pipe when the accelerator is depressed? If so, what color is it?
Black smoke indicates it is burring too much gas which hurts fuel economy.
Blue smoke indicates the car is burning oil, which indicates oil is getting past the valve seals or piston rings meaning a major problem.
White smoke indicates water is getting past the head gasket also meaning a major problem.
6. Take a Test Drive –
A test drive will then demonstrate how the car drives. Note: I always test drive with the radio off so I can hear any potential issues with the car.
Does the car try to pull to one side or the other when driving? Do the brakes make a squealing noise when depressed?
Does the engine hesitate when the accelerator is depressed? Does the engine run smooth and accelerate smoothly?
Does the transmission shift smoothly? Does the transmission slip between gears or allow the engine to over rev prior to shifting? If so, this would indicate a possible problem.
Are there any unexplained noises? Note them for your mechanic's inspection.
After the test drive your inspection is complete.  If a defect is found at any point during the inspection, regardless of whether it is major or minor, it means a problem that will have to be dealt with in the future.
It must be determined whether any of the defects found are deal breakers. I should add at this point my  personal experience says what many people consider to be "the deal of a lifetime" tends to come along every few weeks. I therefore find it easy to walk away from any car confident there are many quality used cars out there to be found.
If the car passes all these inspections and the test drive, I am ready to  gain agreement from the seller to allow an inspection by my mechanic.
I hope these tips will help you buy a better used car. Please contact me with any questions about this episode or any other questions about inspecting a used car.
Links:
CARFAX: http://www.carfax.com

Podcast Dallas Meetup: http://www.meetup.com/Podcast-Dallas/events/164835992/
Tips for Buying a Better Cash Car: http://www.cashcarconvert.com/013
Call to action:
If you liked this episode, please consider going to iTunes and subscribing.
On iTunes once you subscribe, you can leave a rating and review. Taking this action will help this podcast move up and be more easily found in iTunes. Thank you for an honest rating and review.
Alternatively, you can let me know on Twitter at @CashCarConvert
Do you have a comment about this interview or about the podcast itself? Please leave a comment below.
I appreciate every listener.
Thank you for listening to the Cash Car Convert podcast.