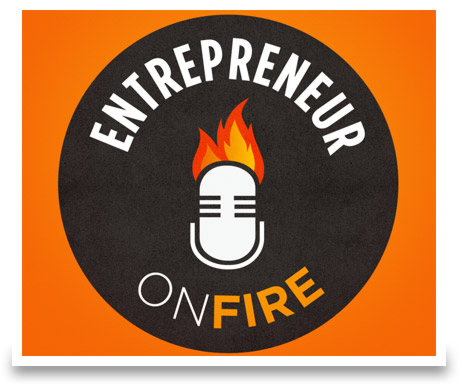 We have John Lee Dumas with us, who had an idea or "AHA" moment and then took massive amounts of action to achieve his dream. John created Entrepreneur on Fire, a 7 day a week podcast. I should note he did this when many podcasting experts said it couldn't be done. Undaunted John moved forward. Now, in less than 18 months, he has aired over 450 podcasts delivering on his 7 day a week promise. This has earned him $100,000 and over 300,000 downloads every month.
Click to Listen
Podcast: Play in new window | Download
If that was all he had done, that would be enough, but no, he has also written a book, Podcast Launch, which provides not only his story, but also tells others how to launch their podcast. The Kindle version comes with 15 video tutorials to get you started.
This too would be enough, but no, he also created a membership site dedicated to teach people everything they need to know about podcasting. It is called Podcaster's Paradise and can be found at podcastersparadise.com.
I recommend both Podcast Launch and Podcaster's Paradise to anyone thinking of starting a podcast. Both will be linked up in the show notes at Cash Car Convert dot com.
I also have to give Podcaster's Paradise a special shout out, as I had an eleventh launch issue with this podcast. Videos on Podcaster's Paradise helped me solve my problem and meet my objectives to get my podcast launched in December.
Links:
Home Page: EOFire.com
Podcast Launch: http://www.amazon.com/Podcast-Launch-complete-Includes-Tutorials-ebook/dp/B00BJUIT1W
Podcaster's Paradise: PodcastersParadise.com
John Lee Dumas' Backstory: http://www.entrepreneuronfire.com/podcast/john-lee-dumas-3-interview-and-john-lee-dumas-of-entrepreneur-on-fire/
Like this episode, please let John know on Twitter at @johnleedumas.
Call to Action:
If you liked this episode, please consider going to iTunes subscribe. You can then leaving a rating and review. Taking this action will help this podcast move up and be more easily found in iTunes. Thank you for an honest rating and review.
Do you have a comment about this interview or about the podcast itself?
Please leave any comments below.
I appreciate every listener. Thank you for listening to the Cash Car Convert podcast.